Art at Triphammer
Patty Porter: April 5 - May 15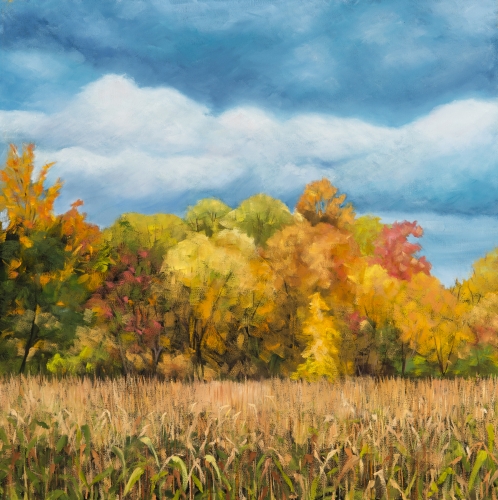 From a deep appreciation of nature and a focused analysis of her senses in the stillness of her environment, Patty creates a sketch. Back in her studio, this initial impression is transformed into a full and rich painting utilizing a varied, chromatic palate of oil paint on canvas. Her driving force for these expressive realistic paintings comes from a place of honor, and desire to preserve our dwindling resources, and natural landscape.
Patty studied, and received degrees from both Kutztown University, and Elmira College, preceding a twenty-three year career as an art teacher with ICSD. Since, she has traveled the world in further development of her craft.
We are honored to present her work at our Triphammer location from April 5th to May 15th!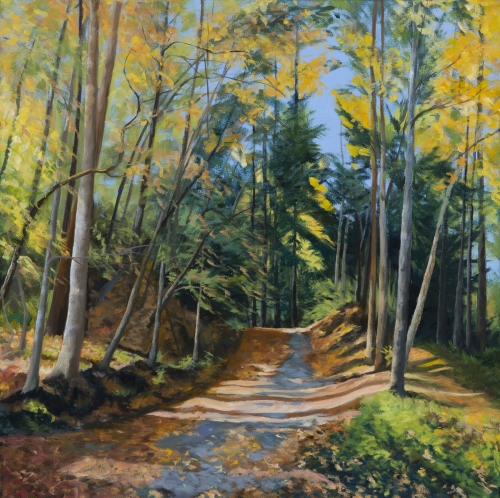 How did you start painting?
"Life Happens" In my mid 40′s, everything changes and I had the opportunity to reinvent myself and I did it through painting. Weaving and teaching art to elementary school children held my previous artistic focus. But after being introduced to Jillian Pedderson-Krag, an inspirational drawing and painting teacher, everything moved forward from there.
Tell me something about your training and your influences.
In the beginning I treated myself to 17 days in La Rochelle, France where I studied painting with Kim English and Quong Ho. We began every day at 8am in either an urban/seacoast setting or a French countryside setting. And we finished when we were exhausted about 7pm. The challenges of this vigorous emersion in painting and the rewards of the experience are ever present.
Your work speaks to how intimately you connect with nature. Has this always been the case, or has it been an appreciation that developed through experience?
I can remember drawing with sticks in the mud around my parents home when I was about 5. So I guess that nature has been the medium for my earliest work and the subject matter for my most recent works. With the threat of climate change, the need to help people focus, appreciate, and preserve the beautiful landscapes has become my artistic goal for my recent work.
Tell us one thing about yourself that we wouldn't know about you from reading your bio.
Long before I ever thought seriously about painting, I was a weaver of abstract tapestries, using LeClerc floor loom. When I recently looked back on these I realized that landscapes were the subjects of these also.
What is your hidden talent?
I have a strong work ethic and some organizational skills that I keep under wraps so I don't get over committed.
Who is your biggest inspiration?
I am very lucky to have a supportive group of older women who paint and are willing to talk about their painting process and critique work. Their approach to life and painting has been a beacon to be followed in this segment of my life. I'm inspired by the designs of Richard Diebenkorn, the perfect color harmony of James Henry Twachtman, George Inness, and Scott Christensen, and the glorious use of light and expression to create mystery of Vermeer, and so many more, too many to mention.