Art at Triphammer
Molly Wolchetsky: September 1 - October 15

About the Artist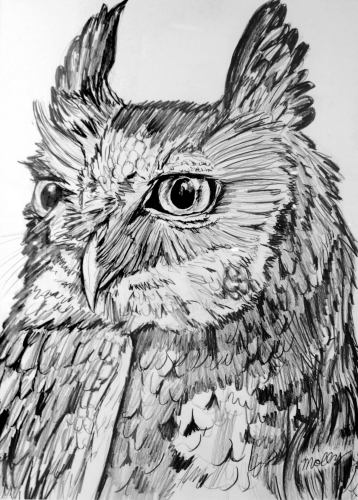 The featured artist, Molly Wolchetsky, is 12 years old. She has been drawing ever since she was able to pick up a pencil. She taught herself to draw and enjoys practicing daily—we go through a lot of paper! Molly has experimented with various types of media but prefers pencil. She began drawing realistic wildlife about a year ago and has produced all these pieces within the last year!
Molly became extremely interested in birds of prey after going to the wild bird sanctuary, Wild Wings, near Rochester two years ago. We have made many trips back, and she has donated her chore money to caring for some of the birds there.

Molly has studied wild birds intensively and knows a myriad of information about many different types. She informs us of all of the different types of birds of prey that are in our surrounding trees and the multitudes of feeder birds that frequent our home. She is also a proud owner and caretaker of 25 chickens!
Molly is extremely excited to share her artwork with the public and hopes to pique people's interest in birds of prey. She hopes you enjoy her pieces of work!